Only one in 10 Americans have tried telemedicine, even though the technology has been around for more than two decades. Telemedicine is a virtual online medical visit, placing a screen between a clinical provider and a patient. While there are clear benefits to these tools, most Americans prefer the traditional on-site doctor visit. However, this appears to be changing, as the global COVID-19 pandemic has created a surge in demand. Is telemedicine the new normal?
Telemedicine is Changing Healthcare Business Strategy
The COVID-19 virus is surging across the world. By late March, the virus hit the U.S. hard. Cities and states are on lockdown as hospitals overflow with sick patients. All of this has caused telemedicine to surge in popularity, as healthcare clinicians try to keep patients with mild coronavirus systems, along with any other non-urgent illness, at home.
Telemedicine, sometimes called telehealth, e-health, or m-health, is a medical consultation that treats the patient through an online video or audio chat. By using a smartphone, tablet, or desktop, a doctor can dial up a patient and make a diagnosis without touching them. While these tools obviously can't work for every visit, routine illnesses like cold and flu, remote monitoring of chronic patient conditions, or even routine checks after surgery can all be done through a videoconference.
The Patient Safety & Quality Healthcare (PSQH) initiative reports that telemedicine is safe, effective, and patient-centered healthcare. Organizations from the American Hospital Association to the Centers for Disease Control and Prevention endorse telemedicine. Numerous peer-reviewed studies show that quality of care does not decline with these types of remote visits.
But healthcare business strategy has not fully bought into telemedicine over the traditional office visit. That is, until now. The new healthcare business strategy during the COVID-19 is for everyone to leverage telemedicine whenever possible.
Healthcare Business Leadership Embracing Telemedicine During Coronavirus
It seems that telemedicine was made for this kind of crisis. The federal government, including the CDC and the Centers for Medicaid and Medicare are pushing doctors and their patients onto the video visit to take some heat off of our overflowing healthcare system.
The benefit of telemedicine during the coronavirus epidemic is that it keeps patients with routine conditions at home without exposing them to a crowded waiting room or ER. Social distancing is our primary weapon against this illness currently, and those with complicating conditions from the flu to diabetes, are at high risk if exposed to the virus. A telemedicine visit can be conducted between a remote clinician and a patient, keeping both safer from spreading illness.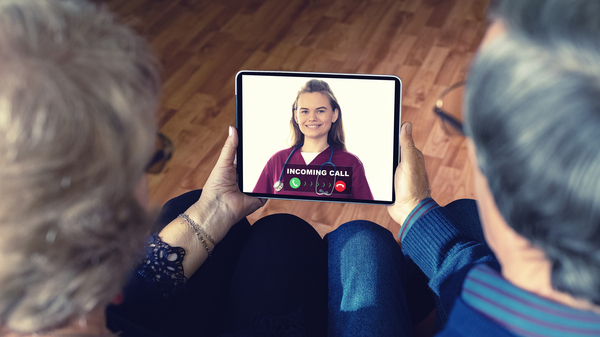 Telemedicine can keep providers and patients safer during COVID-19.
Healthcare providers have ramped up their efforts to provide treatment with telemedicine technology. This has created an unprecedented surge in demand for these services. Forbes reports some telehealth vendors are currently experiencing a more than 250% increase in business over the prior year. Areas hit hard by the virus, such as Washington State, saw an increase in telemedicine visits by 700%.
Politico suggests this is a turning point for telemedicine. These tools have languished up to this point, as both doctors and patients seem reluctant to shift from the traditional in-office visit to a consultation on a video chat. However, like a lot of things post-COVID-19, it seems realistic to consider that telemedicine will continue as a new normal for the future.