If you're in business leadership, it's been an interesting first quarter – from the push for digital transformation as a business strategy to a global pandemic, the rush to work from home, business closures, and a falling stock market. It's not easy being in management at the moment. While the c-suite may currently worry most about the bottom line, the last thing they should do is discard their innovation initiatives. Here's why COVID-19 should ramp up, not redefine, your digital transformation.
Digital Transformation as Business Strategy During a Pandemic
CIO calls it "doubling down" on your digital transformation during the coronavirus. Instead of slashing and burning your innovation initiatives, continue, as much as possible, to follow the plan. The reason why, suggests CIO, is that "Organizations that contained costs during past disruptions felt pressure from companies that took a pro-investment approach when the global economy rebounded."
Global consultancy KPMG states that 80% of enterprise revenue growth will hinge on digital technologies and operations in the next two years. This argues that business leaders must continue to invest in their digital business strategy, while still handling the short-term pain we all feel from COVID-19. We must focus now on maintaining current operations whenever possible, while still planning to emerge stronger and more innovative than ever before.
Forbes agrees, stating that the current state of our lockdown makes it "imperative to digitally transform our places of work and education to be able to operate effectively." It's like the adage about making lemonade out of lemons; there is an opportunity in this pandemic, but business leadership must know how to find it.
Some of the transformations already occurring include:
Remote workforce. Developing a remote workforce as the new normal. CIOs have put their business continuity plans into action as many businesses have evolved into a fully distributed workforce. Internal and external architectures have had to step up as workflows change. Will these changes affect business strategy long-term as, potentially, productivity shifts and operational costs plummet?
Online learning. Remote learning has expanded for K-12 and beyond, as schools everywhere went on lockdown. Many universities and colleges had online options, but many were not, forcing educational leadership to potentially rethink the pros and cons of this non-traditional, but potentially beneficial learning format.
Telemedicine. Healthcare business leadership have shifted their thinking to leverage video conferencing over the traditional healthcare visit. Telemedicine tools keep non-critically ill patients out of crowded hospital ERs, while still allowing a medical consultation in a timely and efficient manner.
Virtual events. Most in-person events and conferences around the world are now canceled, and many have gone virtual. While these events generate enormous income for companies and the cities in which they're held, it makes sense to explore these cost-efficient digital options over the travel, lodging, and other costs associated with on-site events.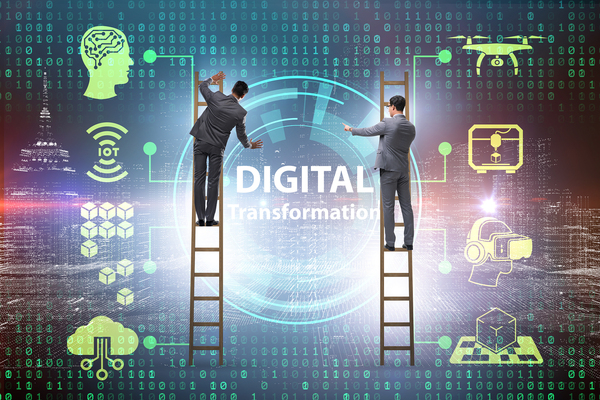 CIO and Forbes suggest business leadership should keep climbing the ladder toward digital transformation.
Each of these changes leads us back to the idea of digital transformation. Each is an argument for business strategy to continue forward on the quest toward innovation. CIO says business leaders must continue its digital transformation. Look ahead, they suggest, to the coming months, where, "There is going to be pent-up demand and when this period ends there is going to be a tidal wave of spending and you want to be in a position to take advantage of it."