Want to stay on top of technology trends next year? Here's an overview of the leading trends, as seen by the Gartner Group in a recent symposium.
Augmenting Human Capabilities
Several leading technology news trends for next year center around augmenting human capabilities, according to a summary of the presentation by industry publication CIO Dive. The Number one leading tech trend is hyper-automation – the automation of everything it is possible to automate. In businesses and other organizations, automation tools will manage workflows and processes, as well as some marketing via a conversational user experience.
The Number two trend? Multi experience. As Gartner puts it, the decade of the 2000s involved the internet becoming mainstream; the 2010s involved mobile devices becoming mainstream. The 2020s are expected to be about transitioning from a computer and a screen to broader input sources, like voice, motion and gestures, and even the motion of eyes. Multi experience can make training simulations, for instance, more life-like.
The Number three trend is democratization, defined as easier-to-use technologies and low- or no-code platforms where many more people can create apps than previously.
The fourth leading trend is human augmentation. Because the term is very close to one of the dominant overall tech trends for next year – augmenting human capabilities – observers may think this is overlap. But for industry observers, "human augmentation" refers to products such as smart contact lenses and smart prosthetics, as well as cognitive automation, which will train both people and machines.
Rounding out the top five trends are transparency and traceability. The last several years, unfortunately, have seen technology and its uses challenged by issues such as fake news and data harvesting by entitles unauthorized to do so. The industry likely has a ways to go to fully win back the public's trust. More changes and regulations are likely to become a reality as the future unfolds.
Gartner forecast that more than 75% of large businesses will be using artificial intelligence to cut down on reputation risk and risk to their brands by 2023.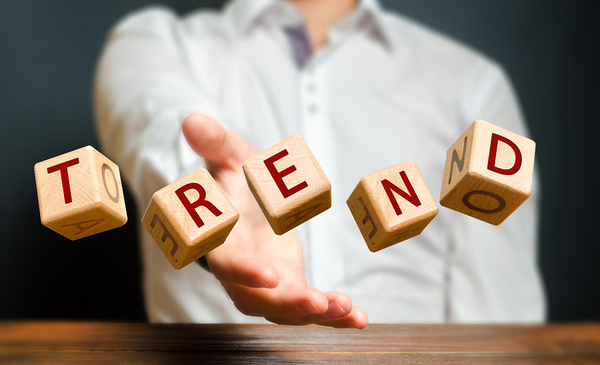 Many trends build on movements from past years.
The Forecast for CIOs
But augmented human capabilities are not the only trends on tap for 2020. C-suite business leadership like chief information officers (CIOs) are also going to see emerging trends behind the scenes.
One dominant trend will continue from the last several years: the increasing reach of autonomous things. From robots to self-driving vehicles, things will be more prevalent under autonomous rather than human control.
Gartner forecasts that this type of automation will be predominantly clustered in three areas: 1) perception and interaction, such as radar and vision, 2) mobility, such as GPS, and 3) collaboration, such as robot fleet management.
Another past trend that will continue to be on the move? Blockchain, dubbed "practical blockchain." This has little to do with cryptocurrency and much more to do with the inventory, tracking, and movement possible through blockchain distribution. By 2023, Gartner forecasts, technology inspired by blockchain will move and track roughly $2 trillion worth of goods and services annually.
Finally, cybersecurity attacks will continue but are expected to increasingly focus on AI. Attacks could focus on impairing training data and theft of AI models. In two-plus years, Gartner estimates that 30% of cybersecurity attacks will focus on AI.