More people are working longer, putting off retirement for a few years. For businesses, it's important to know how to benefit from the aging of the workforce.
The factors contributing to the graying of the workforce are numerous, including:
Countries increasing retirement ages to relieve burdens on social programs
People are living longer with medical advances that improve quality of life
Inadequate saving for retirement or the inability to do
Declining fertility rates
These conditions have helped allow older workers to be productive and effective well into their 60s and 70s. That means older employees are holding more business leadership positions, which can create frustration from younger employees eager to progress. It also means increased health care costs for companies that retain employees who have more medical issues.
Older workers provide significant advantages to companies, including:
Emotional stability and maturity
Mentoring and advising younger employees
Experience that can be brought to bear in multiple ways
Problem-solving abilities to address complex challenges
Institutional memory
Deeper industrial knowledge
Nuanced critical thinking
Larger networks
Despite the advantages older workers provide, there are still prevailing perceptions and biases against older employees. Consider the following: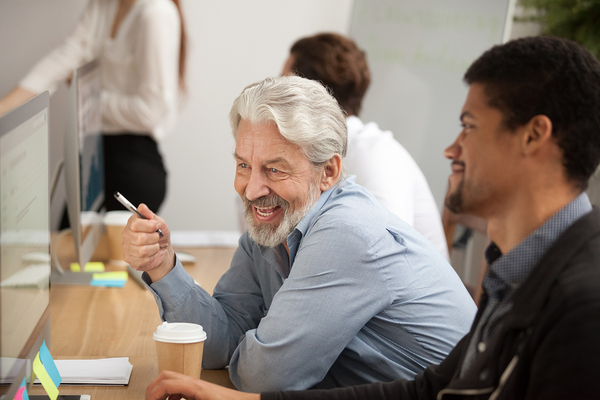 Encourage your senior employees to share their collective knowledge and experiences with the organization.
Leveraging Older Employee Assets
What can companies do to maximize the impact of older employees? A few suggestions.
Invest in Knowledge Transfer. Develop programs that allow older employees to transfer their collective insights, experiences, skills and advice to younger employees. Building a knowledge base allows for information to be organized, stored and delivered as needed.
Provide Professional Development. Some business leaders choose not to invest in professional development for senior employees. However, older workers are more likely to remain loyal to organizations and less likely to change jobs. The risks of investing in mature employees are minimal.
Make Accommodations. Whether it's flexible work arrangements, reducing workstation glare and ambient noise, or ensuring tools are available for physical work, simple accommodations can keep senior employees more productive.
Commit to Age Diversity. Diversity comes in many forms, including age. Be sure to conduct workplace demographic analyses to understand patterns related to employees of all ages, including retirement trends, attrition and retention. Commit to building age-diverse teams.
Ask Them. Seek input from your oldest employees about how they can be most useful and productive, what accommodations may be necessary and how to leverage their accumulated knowledge.
The silver wave of aging employees is here to stay. It behooves companies to develop a business strategy to get the most out of these valuable workers.