Digital nomading, or traveling while doing remote working, is on the rise. The increase in the number of digital nomads is fueled by three factors.
Three Factors at Work
The first is the steadily growing number of people who work remotely. In 2016, for example, 43% of workers spent at least some time working virtually, according to a New York Times report on Gallup poll data. That figure is up from 39% in 2012. Of these, nearly one-third worked remotely 4 to 5 days per day.
Because of this growing trend, working relationships have changed as well. The initial period of figuring out how to better collaborate is a struggle for many who have just started remote working. Thankfully though, there are better resources out there for those who want to or need to better work as a team remotely. Websites like flippingheck.com (https://www.flippingheck.com/5-rules-for-better-collaboration-during-remote-working/) outlines some of the rules most need to consider remote working. This kind of information might further push the trend of remote working.
Not only that, but many employers are embracing an even further hike in the number of people engaged in remote work. Dell Computer, for example, plans to have 50% of its people working virtually in the next several years and some people creating their own home office, using somewhere like office monster to get their furniture.
The second is technology news: the growing sophistication of and access to digital technology across the world, which enables work to be done and transmitted seamlessly across continents. Businesses are increasingly using fast file sharing services for their general databases, allowing people access to their work details securely regardless of if they're based in office or across the country.
The third factor is the flexibility of many of the people who are working remotely. The rise in remote work affects people across all age groups, but because the Millennial generation was entering the workforce as the phenomenon gained momentum, remote work is often associated with them. Millennials are in early adulthood, an age where people frequently want to travel. In recent years, Millennials have been joined by retired or semi-retired Baby Boomers.
The three factors have created something of a perfect storm: many people are working untethered to a specific geography, want to travel, and have the physical ability to take their work with them. Have laptop, will travel.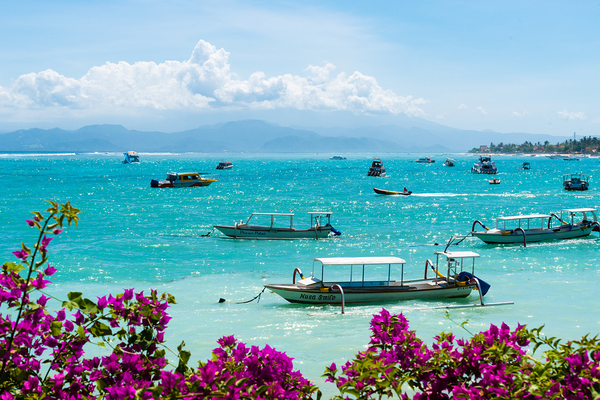 Bali is one of the most popular digital nomad destinations.
Increasingly Packaged
In the early years of digital nomading, travelers were on their own to craft itineraries. Popular spots were Thailand and Bali, which were inexpensive to live in, lovely to look at, and replete with good wi-fi.
Now, however, it is increasingly common for digital nomads to nomad on a rough equivalent of a packaged tour. Businesses accommodating the digital nomad lifestyle have sprung up worldwide. Many trade on a fourth factor that seems to be increasingly fueling digital nomading: the coworking (and coliving) space.
One such business is Roam, which hosts coworking and coliving spaces for digital nomads in Miami, Tokyo, London and Bali, with planned expansions to New York, Berlin, and San Francisco – see Urbanests. Roam is a type of bed and breakfast, but with working spaces, conference rooms, and free networking with other digital nomads thrown in.
Another is Nomad Cruise, which takes to the water for two weeks at time, hosting floating networking in lovely climes.
Is digital nomading a phenomenon of the moment, or is it likely to be a long-term feature of the new digital workplace? Well, one view is that it's likely to last as long as remote work, good wi-fi, and people who love to travel do. The long-term nature may be buttressed by the move to standardization.
Another view is that digital nomading sounds better in theory than it seems in practice. A recent New York Times article on Roam, for example, pointed out that working poolside with palm trees was…working. It's not the same as a travel experience; being in a location doesn't mean you're experiencing what makes it unique. If that insight becomes more widespread, digital nomading might drop in popularity.
Another potential drawback is that working while traveling requires considerable planning and tolerance of disruption. Workers who like routine and the comfort of their desk every day, virtual or not, may not be suited to it.
Digital nomading is still in its infancy, fueled by the increasing ubiquity of remote work, digital connections, and the desire to travel. The pros and cons of long-term viability are still in the process of being worked out.