The basic structure of the sharing economy, as Inc. notes, is to sell or rent unused items or services via digital platforms, without a company having to hold and service costly inventory. This is the model for all the successful start-up companies in the sharing economy, from Airbnb (spare rooms rented), Uber and Lyft (individual cars rented for a short period of time, with driver), and eBay (used clothing, records, and other items, resold).
But have all the great ideas happened in the sharing economy? Or will the sharing economy keep generating ideas and new businesses? And what might legacy industries need to know?
Area to Watch: More Emphasis on Service and Customers
One important area for current business leaders: the next-generation sharing economy will focus more on two elements: 1) the community, including the suppliers and 2) curating experiences for the customers, according to Inc.
For the increased focus on community, ride-hailing app Lyft is a good example. Lyft, which has, from its inception, focused equally on riders and customers. That stance is something of a departure from its competitor Uber. Uber focused primarily on customers. As a result, its drivers were often publicly angry with some of Uber's mandates.
Lyft, by contrast, pays attention to its entire community, including both riders and passengers. It has been able to increase market share partly because it's perceived as a nicer company.
Sharing economy companies like Poshmark also focus on the community. Poshmark resells higher-end clothes, rewarding the sellers by providing a revenue-generating method of cleaning out their closets and customers with high-end items for less.
Customers are extraordinarily loyal, with 75% making repeat purchases.
And curation? Inc. focuses on platforms like Domio, a high-end purveyor of vacation rentals. If that were all it did, Domio would be an upscale Airbnb.
But Domio doubles as a curator of the properties — it's actively involved in choosing them —and acts as a property manager. As such, it points a new way forward for the sharing economy: connecting users and sellers via a digital platform, but also taking on the roles of more traditional companies.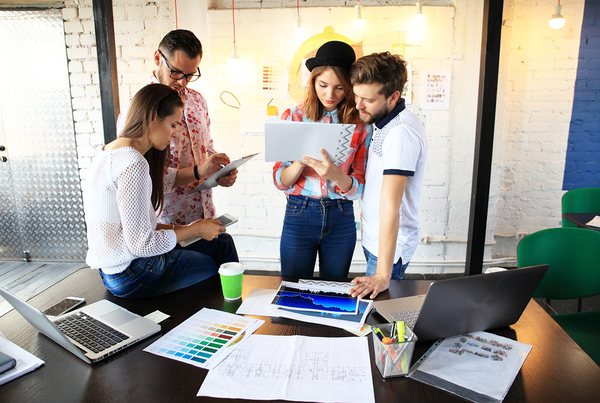 Some sharing economy companies capitalize on new markets, like the rising move toward freelance work.
New Markets, Too
Another way forward for the sharing economy? Capitalizing on trends to serve new markets.
By 2020, for example, roughly 40% of the U.S. workforce is expected to be working as freelancers. WeWork, an outstandingly successful start-up in the sharing economy space, has blazed a path to success by offering services to the burgeoning freelancer market.
WeWork offers office space for freelancers. In some ways, it deviates from the classic sharing economy model, because the company rents office space specifically for that purpose, rather than renting or selling an already available item.
But WeWork's sharing economy spin is to rent shared space. Rather than having to set up an entire individual space, freelancers can pay a monthly fee to WeWork. In exchange, they receive space in an office, complete with Wi-Fi, conference rooms, and free coffee.
Roughly 80% of Americans use some aspect of the sharing economy. Where will the next fortune be made?