Like many companies, venerable retailer Procter & Gamble is changing its business model to adapt to technological changes. P&G has reorganized its entire operation and revamped certain products for e-commerce.
What do these changes mean for the company and others considering such a bold shift in business strategy? Here is a closer look at what Procter & Gamble is doing for innovation.
The New P&G 
In early November 2018, P&G announced to shareholders it will reorganize itself into six business units, effective July 2019. Each business unit will have its own business leadership with a CEO with full profit and loss responsibility and authority for products and packaging innovation, brand communications, cost management, supply chain and consumer analysis.
The six unit CEOs will report to company president and CEO David Taylor.
Previously, the company operated in a three-way matrixed structure – global business units (where product categories such as home care or child care resided), sales and marketing organizations responsible for regional and local activity, and corporate functions.
Under the new organization, P&G will be organized into the following business units:
Baby & Feminine Care
Beauty
Fabric & Home Care
Family Care & Ventures
Grooming
Health Care
The new structure is designed to make the company more agile and within their respective markets while allowing for faster decision-making. Among the other advantages for the 92,000-employee company:
Easier portfolio management. With distinct business units, the company can more easily buy, sell or spin off its businesses with greater efficiencies and less unbundling.
Better response to shifting consumer behaviors. The consumer packaged goods industry has seen major changes of late, including e-commerce, which means there's unlimited digital "shelf space" in which more products can be offered. Social media has also allowed brands to micro-target consumers.
Corporate resource reduction. About 60 percent of corporate positions will be pushed down into the business units, where decisions about sales, marketing and human resources will now be made.
Why the Change?
P&G has seen declining sales in recent years. Net sales in 2014 were $74.1 billion before dropping to a five-year low of $65.1 billion in fiscal 2017. Despite declining sales, dividends per common share have grown from $2.45 in 2014 to $2.79 in 2018.
The company has been the target of activist investors in recent years with Trian Partners' Nelson Peltz joining the board in March 2018. Trian and Bill Ackman of Pershing Square delivered presentations critical of the company and advocating for strategies for broad improvements.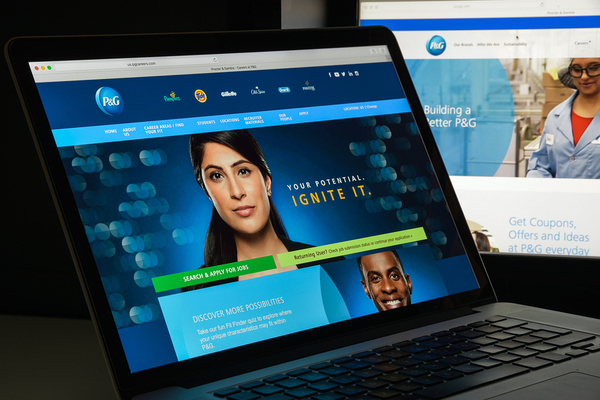 P&G has begun to invest in e-commerce to compete with upstart competitors.
Starting to Innovate
The reorganization is described as "constructive disruption" and is accompanied by focused improvements in five areas designed to boost competitive advantage:
Product performance
Packaging
Consumer communication
Retail execution (online and in-store)
Customer and consumer value
The company in recent years has focused on competing with upstart brands using digital disruption to cut into P&G's core businesses. It's adding more e-commerce options and direct-to-consumer sales. For example, its Old Spice brand introduced a beard care line recently, and Tide has launched the Eco-Box designed to reduce the amount of packaging designed. The box can be used to dispense the laundry detergent.
The changes for P&G are a bold initiative. While it is too early to determine the impact, it will be interesting to see how the company can affect change and innovation in coming years.