Ever wonder which startups are the most sought after by employees—and, by extension, by cities and states that want their contributions to the economy? Well, now there's a way to find out.
LinkedIn recently combed through its data to develop The LinkedIn Top Startups list. As it notes, startup companies can be paradigm shifting, and they have transformative power not only in business but for how people work and live. LinkedIn looked at the data from its base of 575 million members to ascertain which companies had the 1) highest employee growth; 2) the most jobseeker interest; 3) the most member engagement; and 4) the most success pulling talent from the LinkedIn Top Companies list.
LinkedIn also imposed some eligibility rules. They had to be in existence seven years or less, have a minimum of 50 employees, be private rather than public, and be headquartered in the United States. (LinkedIn is currently developing similar lists for Australia, Canada, and Germany.)
So who made the cut? For the complete list of 50 companies, click here. A summary of the top three startups is below.
Top Startup #1: Lyft
Ride-hailing companies have certainly been some of the paradigm-shifting startups of recent years. Although many people would name Uber as the dominant ride-hailing platform, it's Uber's smaller competitor, Lyft, that brought home top honors. Why? Well, as LinkedIn notes, Lyft had plenty of opportunity for gloating and glee during Uber's stumbles of the last several years. Instead, it just quietly went about growing market share, harvesting both increasing use of ride-hailing apps and Uber's former customers.
As of right now, Lyft enjoys 35% of the ride-hailing market nationwide, versus its 20% share two years ago. It also has plans in the works for bikes and scooters. Lyft employs more than 3,000 people and is headquartered in San Francisco.
Top Startup #2: Halo Top Creamery
In the #2 position is a rapidly growing specialty ice cream maker, Halo Top. Its claim to fame is selling low-sugar ice cream that tastes wonderful. It's a top seller in U.S. groceries, a feat for a company that's only six years old.
Halo Top employs 100 people, all of whom work remotely or from coworking locales. Last year, it turned in sales of $350 million.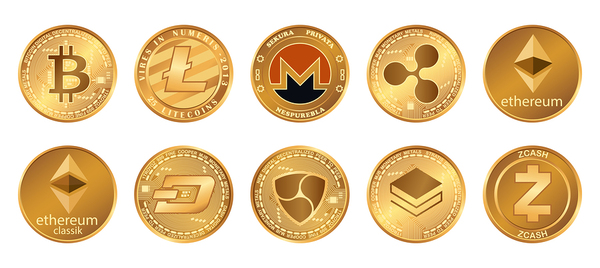 Excitement about cryptocurrencies has helped Coinbase growth to the #3 startup in the U.S.
Top Startup #3: Coinbase
Think that the excitement about cryptocurrencies is abating? It's true that many cryptos sell for less than they did at their peak last year. But that hasn't stopped companies in the cryptocurrency investing space from growing. The #3 startup is Coinbase, a crypto exchange that also supplies digital wallets for cryptocurrency. It's the place, to quote the company, where people come to get an MBA in crypto.
Coinbase employs 500 people to work on 20 million accounts—a number, startlingly, nearly double the accounts at the venerable stock brokerage Charles Schwab. Right now, 20% of the company works in compliance. Coinbase plans to double its headcount by year-end 2018. It's headquartered in San Francisco. Considering how many companies believe crypto is going to revolutionize the technology sector in many industries we can see why Coinbase has started doing so well, now with the addition of extra cryptos trying to emerge on the market such as iota, that aims to be the crypto used for IoT connected devices for monetary transactions, Coinbase could see a long future ahead.