In July, Starbucks announced a partnership with Chinese e-commerce giant Alibaba to begin offering delivery services within the Asian country.
When it comes to Starbucks and delivery in China what does this international partnership mean for both companies?
First, a little context.
Starbucks and Chinese Competition
Starbucks historically has been popular in China, securing more than 80 percent of the company's coffee market in 2017. However, in October of that year, a new competitor emerged.
Luckin Coffee, based in Beijing, has opened 660 stores in 13 cities in less than a year. Its main differentiator? Coffee delivered hot and fresh via a fleet of scooter-driving delivery people. If the coffee isn't there in 30 minutes, it's free.
While tea is still the more popular drink, coffee has become more popular in recent years. However, few offices have brewing machines and Chinese workers may not have the flexibility to leave for a cup of Joe.
While Starbucks continues to be a strong presence, it reported a 2 percent drop in quarterly sales for the period ended July 1. That's in stark contrast to the 7 percent gain it saw in the same quarter in 2017.
It blamed much of the decline on unauthorized third-party delivery services and business cannibalization as the company has expanded to 3,400 stores within the country. Despite that concern, Starbucks plans to double the number of stores in China by 2022.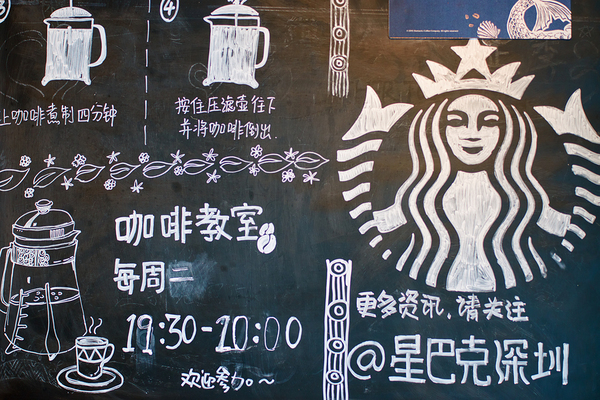 Starbucks has had a strong hold on the Chinese coffee market but saw its earnings slip in the recently reported quarter.
The Partnership
Under the new agreement, Starbucks will partner with Alibaba's Ele.me food delivery platform. Alibaba will also open "delivery kitchens" in its chain of Hema grocery stores.
Customers can use the Alipay payment service or several other apps to complete transactions.
Initially the service will launch in Beijing and Shanghai. The company projects to have the service available via 2,000 of its stores in 30 cities by the end of 2018.
For Alibaba, there are natural opportunities evident in the partnership. The company bought Ele.me in April 2018 for $9.5 billion and had been looking for partners to expand its offerings. Ele.me (loosely translated as Hungry now?) has more than 3 million riders and 9 million daily orders. The platform is available in more than 2,000 cities and is one of the two largest delivery services in the country, competing with Meituan-Dianping.
While tea continues to be a popular beverage in China, coffee imports in the country have doubled in the past four years, according to the U.S. Department of Agriculture.
The new delivery service should cut down on one issue that Starbucks noted – the use of third-party services that take orders and clog order lines at many locations.
The China market is staggering. The apps that will be offering the Starbucks delivery service count among them 500 million active users, according to Starbucks president and CEO Kevin Johnson.
Can the delivery service compete with the domestic start-up, curb the use of unauthorized offerings, and help Starbucks regain market share? Will Alibaba be able to leverage the service to expand its customer base? Would the coffee service ever become popular in the United States? All are questions waiting for answers to be delivered.