YouTube will soon be the second most visited spot on the web. Move over, Facebook, there's a new spot that's getting views and engaging with users.
In August 2018, the technology news was full of stories announcing that YouTube was about to overtake Facebook for the second-most views, according to a new study released by the marketing website marketing-intelligence.io.
Google still dominates web traffic by a wide margin, but soon the company, which owns YouTube, will control the top two spots. Here's a look at the number of visitors to the top 5 U.S. sites in July 2018 (in billions of visitors monthly):
Google (15.2)
Facebook (4.7)
YouTube (4.5)
Amazon (2.0)
Yahoo! (1.9)
A closer look at the data, however, reveals that the trends favor a flip of the Nos. 2 and 3 spots soon.
In recent months, Facebook visits have been falling dramatically, from about 8.5 billion monthly visits to 4/7 billion over the past two years. That's likely due to ongoing concerns about privacy in the wake of its involvement in the Cambridge Analytica scandal and its allowance of Russian accounts that were designed to shape the 2016 presidential elections.
YouTube traffic is on a different trajectory, showing steady monthly viewership growth in recent months. Why? The analysts point to the growing interest in YouTube as a source for both information and entertainment, especially among younger generations. It also reflects "a growing openness among consumers in general to video (as opposed to written) content," according to the website.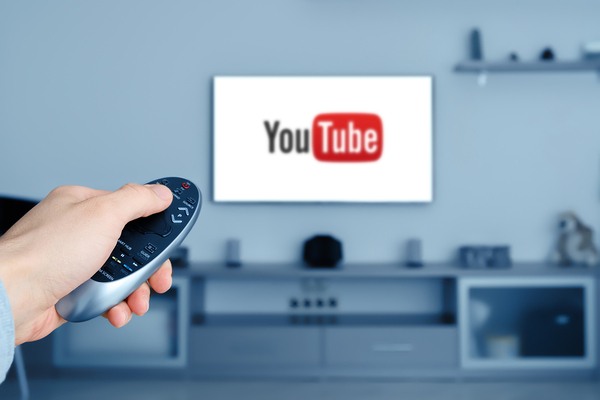 YouTube reports viewership on television is growing in popularity.
There are other factors contributing to YouTube's surging popularity, reflecting a shift in business strategy that appears to be paying off. Here are some of the other key drivers:
Cord Cutting. As more people shift away from cable, streaming services, including YouTube's own streaming service, are growing in popularity. YouTube indicates that the television set is its fastest-growing channel, with more than 150 million hours of viewing each day.
Original Programming. Just as Netflix, Amazon Prime and Hulu have begun creating original content, so has YouTube. One early success has been its Cobra Kai series, spinoff from the popular movie franchise, The Karate Kid.
Advertisers Take Notice. Google has clamped down on some of its standards for channels on the service, making the platform more popular to advertisers. Among its 2 billion users, the average YouTube viewer spends an hour a day on the platform.
Market Expansion. In 2016, the company announced YouTube Go, an app for Android devices designed to make it easier for users in emerging markets to access content on mobile devices. Launched in India in 2017, YouTube Go expanded in November of that year to 14 other countries in Africa, Asia, and South America. It is now available to 60 percent of the world's population.
While Facebook has struggled in the court of public opinion, losing market share in the process, YouTube has cracked down on controversial content. While it still faces criticism about censorship by various countries, hostile user comments, and content appropriateness, the platform continues to move viewership in the right direction.