Robots clean our floors and deliver our packages. Soon, they may just be ringing your doorbell with a pizza in tow.
Food delivery is one of the latest niche markets that is considering using robots to fuel the on-demand delivery industry. Startup companies like Starship Technologies and Kiwi are pioneering new ways to deliver food, particularly because using robots can reduce costs to the consumer and provide an environmentally-friendly experience.
Food delivery robots rolled out in Washington, DC almost two years ago, and the trend is starting to grow. The concept is also in motion at colleges like George Mason University in Fairfax, Virginia, with robots delivering directly to dorm rooms. To date, their fleet of 40 robots have successfully completed more than 10,000 deliveries from local restaurants and created 20 on-campus jobs for students.
Will robots be as successful in the restaurant industry at large? If so, is the country ready to make the shift?
The Future of Food Is Now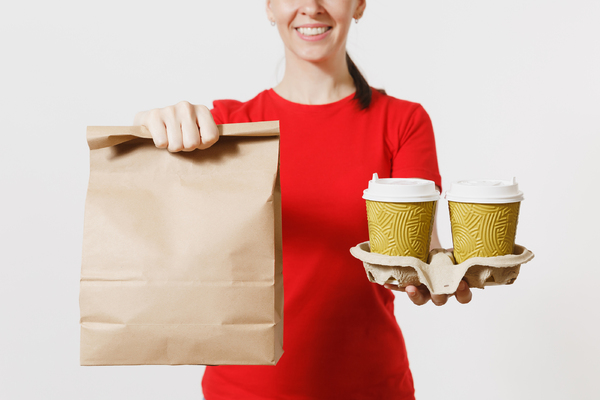 The food delivery industry is growing
Food delivery robots are changing the game on everything from how we eat to how we travel. They look like amped-up coolers with wheels, but instead of beer and ice, you'll find your favorite meal.
According to Starship Technologies, a single robot weighs about 40 pounds and can carry up to 20 pounds' worth of food. Each robot is outfitted with cameras and sensors to understand its surroundings and navigate to its final destination.
At George Mason University, where a fleet of Starship bots are already in use, students can use the Starship app to place an order from multiple local restaurants, pay a small delivery fee, then wait for their order to arrive.
Food delivery robots are entering an industry at a crucial time when companies like DoorDash and Postmates are already shaking up the restaurant sector.
Potential Risks of Food Delivery Robots
With great power comes great responsibility, and concerns about theft and roadway safety have crept onto the radar.
Starship has created anti-theft features to protect the food in the form of a locking lid that can only be opened by the corresponding app. Also, Starship robots will sound an alarm if picked up from the ground. Cameras found on the robots will also double as security features, snapping a photo of violators to be used as evidence.
There's also the matter of where the robots will travel and how they can avoid creating safety issues for others. Unprotected left turns could leave them vulnerable to traffic accidents, plus a low profile could make them difficult to see.
Refraction AI is applying their technology for autonomous vehicles to the food delivery market to overcome some of the potential safety issues. They're testing robots in bike lanes to ease transportation risks, which allows them to use less expensive sensors and materials (this will also help to keep manufacturing and operating costs low).
If the technology takes off, restaurants may find themselves overcoming a new series of challenges, such as designing food packaging to fit inside the robot (a large pizza likely won't be an option).
What to Expect Next
The technology is already in use and will continue to evolve, and it might not be long before you're sharing the bike lane in your own city. Right now, companies are sticking mainly to urban areas and delivering within a short radius, but as the technology grows, it could significantly drive down delivery costs and open up a whole new source of revenue for multiple industries.