Facebook recently announced a realignment back to its original mission of social connection. As part of the realignment, its News Feed would be redesigned to focus more on meaningful interactions to the users.
While most media focused on the news that a now-defunct organization, Cambridge Analytica, had compromised some of the security of Facebook's users as the compelling reason behind the realignment, it's possible that an equally important reason was the fact that Facebook's daily active users (DAUs) dropped for the first time in the last quarter of 2017.
Although the drop of 1 million from 185 million may not be highly significant right now, it's very possible that Facebook considers it a threat to the current business strategy — and may be trying to arrest the slide in its recent actions.
The Meaning for Advertisers
The change is just as important for advertisers on Facebook as it is for individual users. Facebook currently reaps 23% of digital advertising spending in the United States. But Facebook has given individual users more control over their data in response to the Cambridge Analytica news. As the data company Likeable points out, that means that advertisers — who, after all, are Facebook's lifeblood in terms of revenue — may feel that their ability to target consumers is correspondingly lessened.
As a result, Likeable performed a survey of how brand content was received on Facebook under the new directive of social connection.
The answer? Well, perhaps not that good for brands. As Likeable puts it, a vast majority of branded content couldn't really generate much in the way of responses, measured by comments, shares, and so forth, compared to other forms of content.
But within that rather dismal (for advertisers) conclusion, some forms of brand content generated more engagement than others. Food and drink companies, for example, had more luck with product launches, promotions, giveaways, and memes. But other types of companies were far more successful with behind-the-scenes peeks, posts on corporate responsibility, and thought leadership.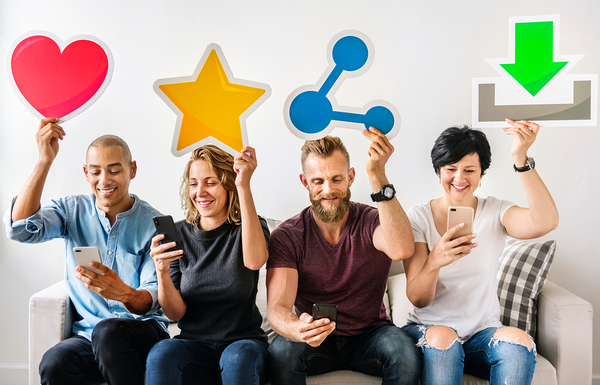 Brand content doesn't generate much engagement vis-a-vis other types of content.
Video Content…
The other finding? Video outperforms other types of content to a degree that is statistically significant. In some ways, this is no surprise, and Facebook was already pouring money into video content. In fact, it had redesigned the platform to include a Watch tab, specifically to try to attain some of the business now enjoyed by YouTube and Netflix. Live broadcasts also drive engagement more than other types.
Here, at least, advertisers are not likely to be caught out. As industry watcher Marketing Dive points out, advertising via digital video is projected to rise 23% this year. Currently, nearly 60% of all digital advertising goes toward video.
In any event, the recent changes don't seem to have hurt Facebook's advertising revenue. In April, the company reported first quarter earnings of $11.8 billion in revenue from advertising, a soaring 50% year over year.
So far, it looks as if the realignment isn't hurting Facebook's advertising revenues. Stay tuned.