What happens when companies born digital decide they need physical locations?
The surge of direct-to-consumer (DTC) online companies in multiple business sectors has been one of the most significant business strategy stories in the past decade — from private equity to venture capital. How big is the surge?
Digiday reports that "Venture capitalists, who put money on brands' balance sheets and have pumped more than $3 billion into consumer brands since 2012, have played key roles in the rise of the DTC darlings." Further, "Private equity investors are now sniffing around the direct-to-consumer category, particularly as more hit $50 million in revenue, and the complexities and logistics of a business start to change."
Building on the success – and business model – of Amazon, purveyors of products as diverse as clothing, eyeglasses, mattresses, and furniture have developed successful enterprises across the country. In fact, several years ago, the pace of retail store bankruptcies accelerated to the point where industry observers were lamenting the death of the bricks-and-mortar store.
Online DTC and Bricks and Mortar: A Partnership, Not a War
Reports of such a death were greatly exaggerated. Bricks-and-mortar is making a comeback. And the engine of that comeback is the online DTC company once accused of driving physical retail out of business. It's even affecting the way digital firms execute marketing. In the UK, VogueBusiness reports that "Many successful DTC brands are shifting dollars away from influencer marketing as they reap greater benefits from word of mouth and offline activities."
The business case is straightforward: Physical stores serve a function that online stores can't match in several respects. People like to try certain goods before they buy them. Warby Parker offers a strong case study.
DTC to Bricks-and-Mortar Case Study: Warby Parker
Warby Parker, one of the initiators of a DTC online retail channel, became a huge success by offering stylish and inexpensive eyewear. It also offered to ship up to 5 pairs of eyeglasses for free so that customers could try them on.
But Warby Parker also ended up having as many as 100 retail stores in large cities. The fact is, customers like to pop into stores to see merchandise. They like to comparison shop for more than five items at a time. And they want to do many things that one can do in stores, but not online.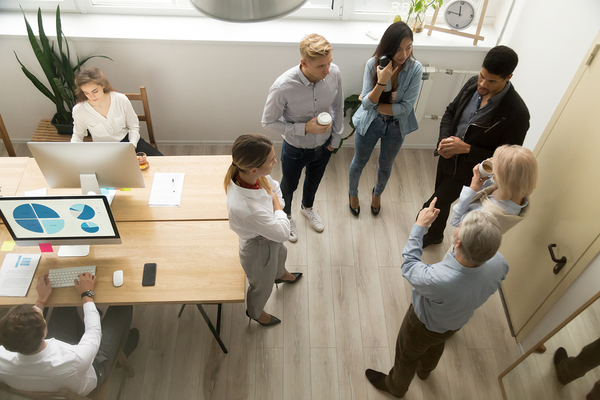 Some online furniture stores have partnered with coworking spaces to display their furniture.
Creative Use of the Strengths of Each
Many online DTC merchants are making creative use of the strengths of both online and physical channels. For both furniture and mattress companies, for example, customers like to physically try and compare the products. That's one reason that mattress company Caspar now has multiple retail locations.
But another reason is the advertising that being at the local mall or among a particular group of stores provides. Purchases of both these items are infrequent, and they are not usually impulse buys. Physical stores offer a marquee value that puts the company name in front of consumers.
A third reason is enhancing customer convenience. Rent the Runway, a highly successful clothing company that allows customers to rent high-end clothing for a few days, partnered recently with department store Nordstrom. Nordstrom will offer areas to drop off and pick up Rent the Runway clothing, and customers can shop for accessories as well. Rent the Runway also partners with coworking company We Work, which offers pickup and drop off areas.
But what if online DTC stores can't afford a massive expansion like Caspar or Warby Parker? Then business leadership gets creative. Online furniture company Burrow, for example, candidly admits that it can't afford bricks-and-mortar locations at this point, according to industry publication Retail Dive. But customers like to look at furniture physically and try it out. To accommodate that need, Burrow partners with coworking spaces, coffee shops, and other places in which furniture is a natural accompaniment…and by the way, also for sale online.
These partnerships herald the future of retail in the U.S.: not online or physical, but online and physical. Online companies are no longer just disruptors, but frequently integrators.