How do you use your weekends? For many of us, weekends are a chance to unwind, recharge, and get caught up on the rest of our lives. For others, there's a struggle to resist going into the office to check on a few projects, put in a few hours, or tackle that pile of papers.
How can you use your weekend to be the best you can be all week long? Let's look at how to make productive use of weekends.
The blogs, health, and technology news is full of tips to help those looking to use the two days smartly. Here are a few of the best suggestions.
Understand choice. There's no wrong way to spend a weekend. Some days you'll have commitments for family, friends (or work) that are out of your control. Others, you can decide how you want to spend those 48 hours. You decide how much time and energy you'll put into various components.
Organize something. Every weekend need not be spent cleaning out the basement or garage. But often we feel more in control and organized if we are able to tackle a small organization project. Clear out a closet and donate those unused clothes to charity. Even that catch-all drawer or stack of unread mail can be a good way to feel you've accomplished something.
Focus on growth. Fitness expert Julian Hayes II suggests understanding the difference between fear-based and growth-based decisions. Fear-based decisions are those looking to avoid discomfort or uncertainty. They are usually short-term-focused and shortsighted. Growth-based decisions look at what's possible and look to the future. What can you do on the weekend to follow a new path?
Unplug. Electronics control much of our lives today. Consider unplugging for part or all of your weekend and see what happens. Sure, a good binge-watch of that must-see television show is fun, but you may want to unplug the television, pick up a book, and get immersed in a story.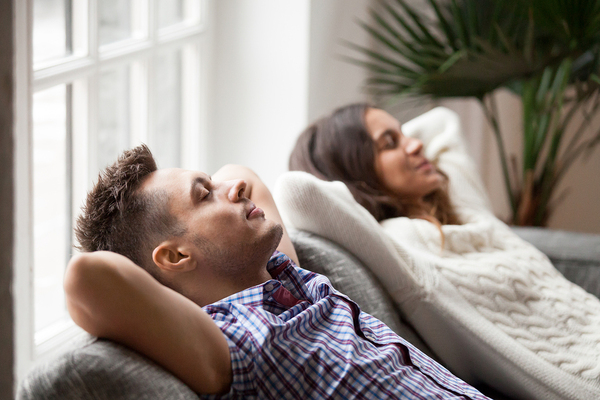 Weekends are important times to decompress and recharge.
Connect or reconnect with loved ones. Your family is likely just as busy as you are during the week with their own work responsibilities, school, and friends. Weekends are a good time for some dedicated family connections, whether sharing an excursion, a special dinner or movie, or a game night.
Sleep and eat well. We're all tempted to stay up later when it's "not a school night," but shifting your sleep schedule can result in disruptive sleep patterns. Stay up late on Friday and Saturday and Sunday can be a rough re-entry, setting off a sleepy work week. Similarly, be sure not to splurge too much food-wise over the weekend. Getting into bad eating habits can leave you not feeling well when the week starts again.
Embrace the hobby. Are you a big baseball fan? Love to cook? If you have a hard time pursuing those favorite pastimes during the work week, the weekend is a great way to immerse yourself in these activities. Take in a ballgame. Cook something special for yourself and the family … and make enough for leftover lunches during the week.
With a bit of thought and planning, your weekends can feel productive and fulfilling, leaving you recharged come Monday morning.