Campbell's, an iconic U.S. brand associated with soup, is focusing on innovation to turn its sales around. According to Bloomberg, sales at the Camden, N.J.-based company have been flat since 2014. It has hired executives to be in charge of innovation in an attempt to drive sales growth and to ensure that Campbell's, a favorite of past generations, remains a favorite of Millennials and Generation Z, the youngest generation of consumers.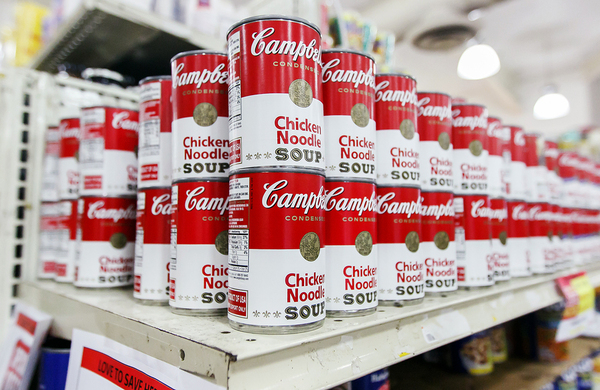 Campbell's is upgrading its iconic soups to appeal to new generations….
To some degree, there is evidence that Campbell's is a favorite of these two generations. They are known for being digital natives and shopping online. Two of Amazon's most frequently purchased soups are one of Campbell's most venerable products, its chicken noodle soup, and a Chili Macaroni it has developed.
More Healthy, More Craft-Inspired Soups Coming Up
That's good news, but it may not be enough to drive sales up. It may simply keep them stable, which is not enough for a good innovative business strategy. In fact, Amazon's purchase of Whole Foods earlier this year has placed some pressure on Campbell's.
Why? Because Whole Foods as a concept exemplifies the newer American consumer: more focused on fresh and healthy foods, and not so focused on packaged soups. Despite earlier attempts to make Campbell's healthier, it is associated with high sodium and additives in the minds of many consumers.
As a result, some of Campbell's innovations focus on increasing the healthiness of its soups — and enhancing the perception of their healthiness. The company has made significant investments in farms in Pennsylvania and New Jersey, near its headquarters. The idea is farm-fresh. New brands sport kale in the can and on the label.
The packaging of some soups is being recast from Campbell's distinctive script and red-and-white label, beloved of pop artists like Andy Warhol. Do Millennials love artisanal methods like canning and Mason jars? Campbell's new types of soup are being packaged in glass jars, reminiscent of Mason jars. Is slow food popular? Several types are advertised in a label touting the slow cooking they have undergone.
Testing Online Delivery and Innovative Methods
Some of its innovations fall into the realm of technology news. Campbell's is testing an online soup delivery service. No, it does not mean that soup will fall out of a virtual reality spigot. It means that Campbell's will be testing the delivery of fresh soup in some markets, ordered directly from its website, according to Bloomberg.
This likely stems from a desire to eliminate the middleman. U.S. shopping is increasingly becoming online-driven, rather than drive-to-the-grocery-store driven. The head of its innovation efforts wants to capture as much of the online market as possible, and capturing it without Amazon or another online retailer between consumers and the company makes good theoretical sense.
But the innovation efforts are also modeled on the way start-ups approach markets. They will test various methods — healthy, crafted, slow, and online delivery — and ramp up the efforts that prove most popular with consumers.
Campbell's, a brand famous for its soups, has been suffering from flat sales for three years. It is attempting to innovate by appealing to health-conscious younger generations and by embracing the trend to online shopping.