Digital retail is big business any time of year, but especially so in November.
Black Friday: While Malls Are Strong, Online Rules
In the United States, Black Friday kicks off the Christmas holiday season. While Black Friday is traditionally a day for people to hit the mall the day after Thanksgiving, in recent years it has increasingly become an all-channel extravaganza, where the mall, the computer, the tablet, and the mobile phone all combine in a vast sales orgy.
In 2015, for example, U.S. shoppers spent a total of $4.45 billion online, both on Thanksgiving itself and on Black Friday. The weeks before, during, and after the Thanksgiving holiday are increasingly becoming vast sales tunnels.
For the overall holiday shopping season, sales totaled just over $626 billion in 2015, versus $414.46 billion in 2002, so while shoppers continue to make the pilgrimage to malls — more than 101 million last year on Black Friday alone —online shopping clearly fuels an impressive amount of the spending.
Black Friday gets its name because it's the day that often puts retailers in the black rather than the red. The holiday shopping season is often responsible for 30%-40% of retail annual sales, so it's a crucially important period for retailers.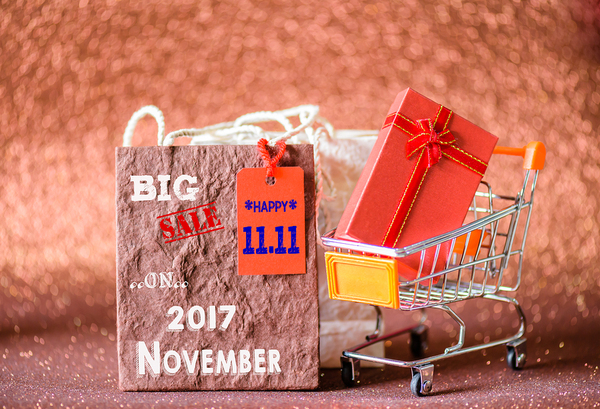 …but China's Singles Day garners far more sales volume in one day.
Singles Day Dwarfs Black Friday
As important a shop-till-you-drop day as Black Friday is, it is dwarfed by China's Single Day, which is celebrated on November 11. Singles Day is a kind of antidote to Valentine's Day, designed for the unattached to celebrate by buying themselves things. Even its chosen day, a series of ones (11.11), celebrates the single.
China's shoppers spent more than $17 billion last year during Singles Day in the entire 24-hour period. The digital retailer Alibaba, a large online retailer and service provider somewhat analogous to the U.S.'s Amazon, registered $12 billion in sales during the first 12 hours alone.
While Black Friday is a bonanza for retailers overall, Singles Day is notable for benefiting a few online retailers significantly. Analysts estimated that 500 million shoppers will visit Alibaba and its sister sites, for example, just on Singles Day alone.
Analysts last year forecast that Alibaba processed 175,000 sales transactions per second on its sites, the biggest pull of computer power in a single day in China, and an impressive display of the company's cloud computer capability — which, after all, is one of the things online holiday sales both rely on and demonstrate.
Alibaba dominates cloud computing in China because the Chinese government doesn't allow U.S. giants like Amazon licenses.
Still, as Bloomberg points out, while Alibaba may dominate the November mega-sales holiday in China, it doesn't dominate the market worldwide. It provides 3% of the global market for infrastructure as a service, for example, the most rapidly growing part of cloud computing. But Amazon provides 44% of worldwide infrastructure as a service capacity.
Singles Day was an online extravaganza in China this year. Will Black Friday follow suit in the U.S.? Given that "Black Friday" not only continues to drive sales but to make the period "Black Friday week," all signs currently point to yes. Stay tuned.