A new report from the Pew Research Center reports that 25 percent of all American adults are online "almost constantly" and three-quarters log on daily.
What are the numbers behind this latest technology news? Here's a closer look at what it's like to be online, all the time: What the numbers say could shape future business strategy.
Pew's March 2018 report showed across-the-board increases from a similar survey conducted three years earlier. The key data:
Seventy-seven percent of Americans go online every day, including the 26 percent reporting being constantly online, 43 percent who are online several times daily, and 8 percent online about once a day.
Eleven percent are online several times a week and another 11 percent say they do not use the internet.
The 26 percent online all the time is up 5 percentage points from a similar survey in 2015
Americans online at least occasionally are using mobile devices – 83 percent reported connecting via a smartphone, tablet, or other mobile device
Mobile users are online a lot – 89 percent are online daily and 31 percent almost constantly
A Closer Look at Almost-Constant Online Population
Breaking down the always-on group parses out some interesting demographics. Among this group:
Women are more often well-connected, but just slightly, compared to men: 27 percent to 25 percent
Thirty-seven percent of black Americans are online constantly, compared to 30 percent Hispanic and 23 percent white Americans
Constant online presence skews younger. By age group, the results are:

18-29 years old: 39 percent
30-49: 36 percent
50-64: 17 percent
65 and older: 8 percent

More education means more constant connectedness:

High school graduate or less education: 20 percent
Some college: 28 percent
College graduate: 34 percent

Annual household income also factors into how much of the population is constantly online:

Less than $30,000: 24 percent
$30,000-$49,999: 27 percent
$50,000-$74,999: 23 percent
$75,000 or more: 35 percent
The rates of usage by age have all increased from the 2015 survey, with the 30-49 adults increasing by 12 percentage points in three years. The 50-64 age group has risen by 5 percentage points.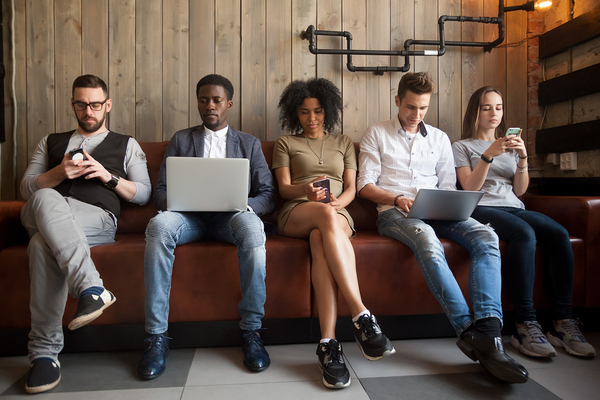 Pew Center research shows that nearly 40 percent of young adults are constantly online.
What It Means
We are all becoming more reliant on devices to remain connected to each other and the greater world. Consider the 2016 Digital Habits Survey by Delvv that found Americans were more likely to give up many other pleasures than switch from a smartphone to a "dumb phone" for a week. That survey found that Americans would rather:
Abstain from alcohol for a month (74 percent)
Give up sexual interactions for three months (29 percent)
Avoid sweets for a month (49 percent)
The impact of our reliance on technology to remain connected is a powerful one. Businesses need to consider that Americans are likely to be online and develop strategies that allow them to cut through the noise and deliver messaging, value, and brand identity. The connectedness, if Pew trends are to be believed, will only increase, resulting in a greater reliance on technology for how we work and live.