But 2008, of course, was the year of the Great Recession. The economy now is fairly robust. Consumers are earning and spending. They just aren't spending at the local mall — or the local Main Street.
Not only is the number of stores closing this year huge, those stores join the more than 7,000 stores closed in 2015 and 2016 combined.
Stores that are closing include venerable U.S. retail names, such as Macy's, J.C. Penney, and Sears.
A Tipping Point Toward Online Sales
What's the culprit, if it's not the U.S. consumer?
The verdict is clear. It's online retailers such as amazon.com, who have provided a vast array of choices, reasonable prices, and — perhaps most importantly — the ability to shop online anytime and have your purchase delivered directly to your door.
The ease and convenience of online retail have essentially beat running to the mall or downtown.
In fact, many observers dub the closures of 2017 as a tipping point; the year that online shopping became not just technology news, but the dominant mode of shopping in American life, just as bricks-and-mortar stores used to be.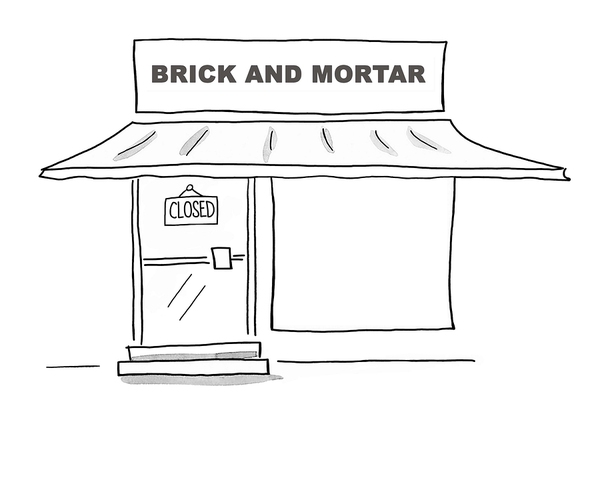 Bricks and mortar stores are closing at a rapid pace.
What Does the Future Hold?
Does that mean that bricks and mortar are entirely on the way out?
No. The choice of bricks and mortar stores versus retail depends on the business strategy of the firm.
If people need to be physically present, bricks-and-mortar stores will likely continue to be the point of sale. People getting their hair cut, for example, won't be able to do that online.
In addition, the very giant that has come to symbolize e-retail, amazon.com, has recently moved into bricks-and-mortar stores. Reviews of its bricks-and-mortar bookstores note that the stores serve as an introduction to the wealth of product that is available online.
Amazon.com has also launched into bricks-and-mortar stores without clerks, testing the waters of digitally powered shopping in a physical locale.
So bricks-and-mortar stores are not going away.
Still, the number of shuttered retail doors and the potential bankruptcy of large retail chains are changing the face of the American retail scene.
The closings may have a ripple effect on malls, as some of the stores closing, like J.C. Penney and Macy's, are anchor tenants in many malls.
The problem is widespread enough that bank executives have been asked what the lending picture is for malls. Will they continue to lend as foot traffic likely drops? Will malls turn into housing or be repurposed for other uses?
Stay tuned.
One thing is certain. The epic retail closures of 2017 prove that one-time digital disruptors like e-commerce retailers can become the dominant players given the passage of time.