With the conclusion of the midterm elections, the balance of the political landscape has shifted. Republicans now have control of the Senate, the House and hold a significant majority of governorships throughout the country.
Now that the dust is settling, the private equity industry is wondering: What will this mean for private equity in the future?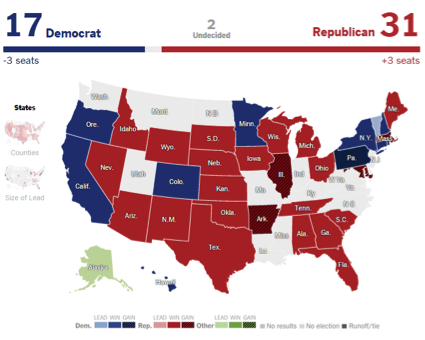 A 2008 study into how PE faired in blue vs. red states conducted jointly by Oliver Gottschalg of PERACS and Prof. Aviad Pe'er from NYU's Stern School of Business may provide some insight for the future.
This study analyzed historical data on 10,746 buyout investments made by 2,396 different funds from 1980 to 2003 and found that companies were almost 30% more likely to undergo a buyout if headquartered in a red state and red state buyouts outperformed those made in Blues States by 8%.
Private equity isn't just sitting on the sidelines either. Three candidates with private equity backgrounds proved victorious in governor's races. Bruce Rauner, former chairman of GTCR, was the winner in the governor's race in Illinois; Charlie Baker, former executive-in-residence at General Catalyst won in Massachusetts; and Gina Raimondo, a Democrat who co-founded venture firm Point Judith Capital, became the first female governor of Rhode Island. In addition, Republican Nathan Deal was re-elected in Georgia. Governor Deal, is credited with ending a long hold out that prevented Georgia's pension funds from investing in private equity.
With more Red States on the map, PE is seeing Green.
Oliver Gottschalg and Aviad Pe'er's research was first published in a 2011 issue of the Strategic Management Journal.