The WannaCry ransomware attack in May 2017 heightened the vulnerabilities of corporate computer systems worldwide while reinforcing the need for businesses to take steps to protect systems, customers, and reputations.
Within a day of being launched, the technology news worldwide was abuzz with reports that WannaCry had infected more than 230,000 computers in more than 150 countries. The worm attack targeted computers running Microsoft Windows and demanded Bitcoin payments to unencrypt data that had been hijacked.
The severity of the attack was significant. Several hospitals in the United Kingdom's National Health Service had to cancel surgeries and was able to provide only emergency services during the attack.
The incident makes one thing very clear about ransomware: A protection plan is worth pounds of cure. Here are several ways businesses can protect themselves from future ransomware attacks.
1. Know If You Are a Target
Ransomware attacks are particularly problematic for companies that rely on a constant flow of data, such as banks and other financial institutions, hospitals, retailers, municipal institutions, and airlines.
2. Back Up Your Data
Your company needs to have a systematized plan for backing up data on at least a daily basis. That means a ransomware attack's damage will be minimal at worst losing the data entered or transmitted since the last backup.
With more infrequent backup schedules, or, even worse, no backup, the results could be devastating.
Hackers are getting smarter about their capabilities and some are targeting backup systems too. If your data is not backed up to a cloud server, then any local backup servers or storage devices should not be connected to desktop systems that are accessible by potential bad actors.
3. If It Doesn't Look Right, Don't Click
Hackers have long used emails and links that are suspicious but can open doors to attacks. Hackers today are using new tricks, such as "malvertising," by embedding malware in ads that may appear on popular websites. Ad blockers are one way to thwart such attacks, as is employee education to reinforce caution when clicking on links.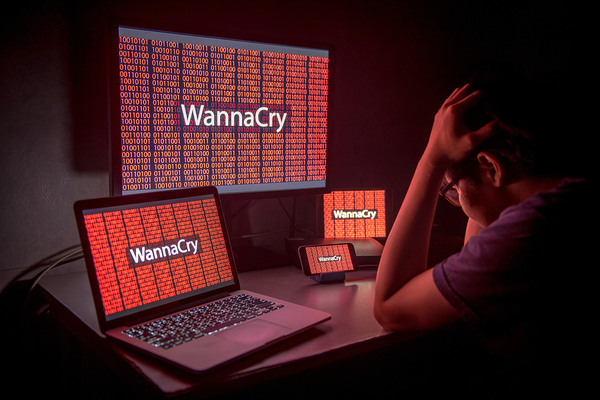 The WannaCry ransomware attack infected hundreds of thousands of computers worldwide in May 2017, forcing affected companies to pay Bitcoin to release data.
4. Block and Patch
Mistakes will happen, so there is a need to build in extra layers of protection. Companies need to put in place other tools to protect from the errant clicks, including making sure that software is updated and patches are installed promptly. Patches help to fix identified security flaws and ensure that add-in vulnerabilities via Java and Flash are mitigated. They should also be sure to block websites that are known to be problematic.
5. Disconnect When Infected
Each company needs to have a plan for when ransomware hits. One key component of that plan should be to unplug. Infected systems need to be disconnected from the corporate network. Wi-Fi and Bluetooth should be disabled on machines that could spread attacks.
6. Use External Tools
The marketplace is full of tools that promise to protect and defend against ransomware attacks. These tools are embedded in hardware devices like hard drives with built-in encryption, operating systems that promise enhanced protection and mobile devices that have the latest security features built in.
Prudent business strategy and proactive steps taken before an attack can help keep companies, their employees and their customers safe from future intrusions.