Over the past two decades, the media industry has been transformed. No longer defined by a newsprint daily edition newspaper delivered to doorsteps or a newsstand magazine, the mediascape is incorporating technology and digital innovations like social media to retain and grow both audiences and relevance.
The #1 innovator in media is BuzzFeed.
The technology news media innovators of the mid-twentieth century, like Time-Life, Forbes, and Fortune, focused on relatively mass circulation and photography to woo audiences and market share. What do the new media innovators focus on?
Every year, Fast Company draws up a list of the World's Most Innovative Companies. Here's a list of their top three in the media sector and an overview of the focus of each.
#1: BuzzFeed
BuzzFeed got its start just 11 years ago, by generating content designed for the web and its sociality. Listicles reigned supreme. So did cat pictures you could send to your friends. But BuzzFeed is now a media behemoth, with 11 editions worldwide and nearly $500 million of capital as of the beginning of the year. It's also signed a pact with old media NBC Universal that allows the latter to invest $400 million in BuzzFeed.
Although BuzzFeed still publishes the quick and shareable stuff that made it famous, it has moved on to cover news, political affairs, and culture in a significant way. It has gained seriousness and significance as a result.
BuzzFeed has an enormous and impressive audience across its multiple channels. More than 5 billion views are registered on its videos. It receives 75% of its traffic from social media, including innovative spaces in fast-growing Snapchat.
It has also made a specialty of niche media across channels. Viewers can watch Tasty videos with recipes, but they can also purchase Tasty: The Cookbook to have those recipes captured between accessible covers. Other niches are healthy living and DIY projects.
There is a possibility that the company will go public as talks about an initial public offering have been floated. Stay tuned.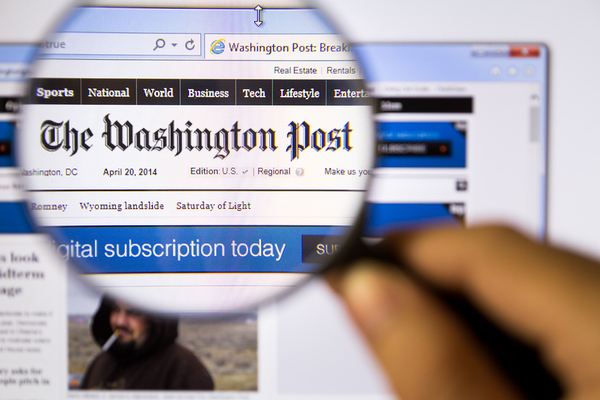 A venerable company turned digital innovator.
#2: The Washington Post
The Washington Post is one of the most venerable names in U.S. journalism, with more than 100 years of history. But it's also a surprisingly contemporary digital enterprise whose business strategy folks say things like "Journalism and technology go hand-in-hand at The Post. Engineers work side by side with journalists to develop some of the most innovative features and experiences on our site and create new ways to showcase our storytelling for readers."
The digital experience focuses on using both traditional text and digital storytelling methods to place stories before readers, ranging from the Olympics to breaking political news. The company has focused on digital tools to aid both reporters and editors to get breaking news quicker than its rivals.
Four years ago, Jeff Bezos, the chief executive officer of amazon.com, bought the paper. The digital focus may reflect his vision. It's certainly succeeding on the business front. In late 2016, the Washington Post garnered 100 million online visitors, a record.
#3: Vice Media
Like BuzzFeed, Vice Media is a New York-based media conglomerate that, in the words of Fast Company, aims for a place "among the most dominant media empires of the 21st century." Vice Media covers politics, entertainment, and world affairs impressively.
They have also been a success on the business end. Their television network, dubbed Viceland, has sold advertising for three years after the launch.
Plus, they are developing television content with multiple partners.
Finally, Vice Media is likely the only would-be media empire to diversify into its own beer. Old Blue Last, launched in the last quarter of 2016.
Innovative media companies draw in audiences and advertising with diverse channels and multiple methods of story-telling. These are some of the most innovative businesses in America.