Video is becoming more and more important to digitally intensive sectors like media and advertising companies. It is likely to become even more important going forward, as streaming video itself improves in quality and usability.
The popularity of Facebook Live is illustrated by the multitude of YouTube tutorials telling people how to stream. 
Business Insider recently reported the technology news that Netflix, for example, is using artificial intelligence (AI) to monitor how much data is needed for optimal viewing on mobile devices, so that video quality will be optimized scene by scene on your phone. Turns out that Bojack Horseman requires much less data than a shoot-'em-up.
As video rises in importance, who will the digital innovators be? Fast Company publishes an annual list of The World's Most Innovative Companies. Who are their top picks in the video sector? Read on.
Facebook: #1
Facebook is the biggest social media platform in the world, with more than 1 billion people visiting it daily, on average. The majority of these are mobile users. It makes the list at #1 because video sharing and streaming are becoming much more important on the platform and in the company's business strategy. Both are often combined with Facebook's forays into virtual reality (VR).
One such combination is video chat via Facebook's Messenger app. Another is Facebook's release of the reference design for Surround 360, a 360-degree camera. The camera is open source; Facebook's release of the design will allow members of the public to build or modify it as they see fit.
Finally, Facebook Live, originally launched to share live video, has proven to have an important public function of, as Fast Company puts it, "circumvent(ing) typical gatekeepers." The live streamed shooting of Philandro Castile was one of the factors leading to public outrage over police violence last year.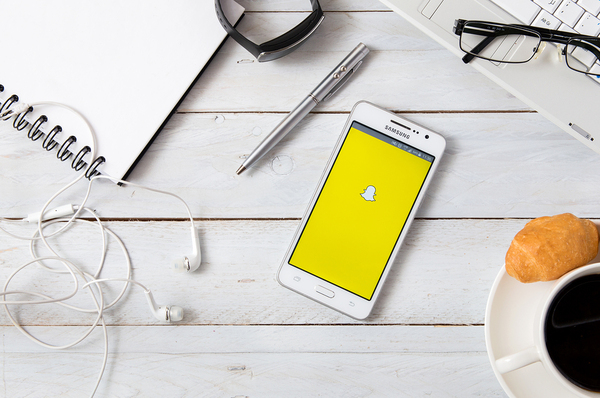 Snapchat uses video functions and products heavily.
Snap Inc.: #2
Snap Inc. is the parent company of Snapchat, the favorite social media platform among teenagers. Like Facebook, users can send shareable videos. It makes the list for its innovative video launches, which have often succeeded where other companies failed.
Its Spectacles product, for example, was a hit despite the fact that roughly similar products — wearable eyewear that has a digital function as well — have hit the skids. Spectacles allow users to record videos while wearing the product, which is then uploaded via wireless.
Live video sharing is available on Snapchat's Stories product, often grouped together by hashtag.
YouTube: #3
Fast Company credits YouTube with democratizing the video process. Members of the public can produce and distribute videos with relative ease.
Like Facebook, YouTube has a 360-degree camera product, VR, and live stream available. Given the open source available on 360-degree cameras, these products are likely to grow in importance.
BuzzFeed: #4
While the top 3 video Fast Company video innovators are social media platforms, #4 isn't. It's a New York-based media company whose online journalism is vivid and shareable and ranges from serious pieces to listicles.
BuzzFeed makes the list of top video innovators because it had a lot of video clout through social media. BuzzFeed's videos get more than 5 billion views every month. Seventy-five percent of BuzzFeed's traffic arrives via social media. It has diversified into specific video channels that are carried on social media. Example? Tasty, a BuzzFeed food channel, which receives millions of views, sometimes for very short recipes. The company is spinning off both larger related projects (a cookbook) and analogous projects, like a DIY channel in Nifty and how to live healthy advice in Goodful.